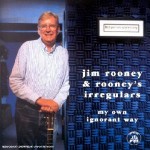 Edit
MY OWN IGNORANT WAY
(2003)
Track Listing:
You Asked Me To;Lord Lovell; Hello Baby It's You; Roving Gambler; Devil's Level; I'm So Lonesome I Could Cry;Mama; One Morning in May; Gone Girl; Pretty Fair Maid; Point of View; House of Gold; Waymore's Blues.
Personnel:
Dan Dugmore (pedal steel) / Pat McInerney (drums) / Shawn Camp (fiddle, acoustic and electric guitars, vocals) / Dave Pomeroy (bass) / Pat McLaughlin (guitar, vocals) / Richard Bailey (banjo) / Kirk "Jellyroll" Johnson (harmonica) / Nollaig Casey (fiddle) / Stuart Duncan (fiddle, mandolin) / Pat Alger (guitar) / Arty McGlynn (guitar)
"Years ago I was lucky enough to be a member of COWBOY'S RAGTIME BAND. Rooney's Irregulars is a direct descendant of that band. Its spirit carries on. God Bless 'Cowboy' Jack Clement!"
(Jim Rooney, from the liner notes)