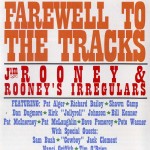 FAREWELL TO THE TRACKS (2007)
Track Listing [writer(s)]: Wrong Road Again (Allen Reynolds), Ready For The Times To Get Better (Allen Reynolds), Busted (Harlan Howard), Baby Ain't Got No Home (Pat McLaughlin, Kenneth Blevins, Johnny Ray Allen, Tommy Malone), We Must Believe In Magic (Bob McDill, Allen Reynolds), Ramblin' Man (Hank Williams), My Love Will Not Change (Shawn Camp, Billy Burnette), Only The Best (Jim Rooney), Goin' Gone (Pat Alger, Bill Dale, Fred Koller), Dreaming my Dreams (Allen Reynolds), No Expectations (Mick Jagger, Keith Richards)
Personnel: Dan Dugmore (pedal steel) / Pat McInerney (drums) / Shawn Camp (fiddle, acoustic and electric guitars, vocals) / Dave Pomeroy (bass) / Pat McLaughlin (guitar, vocals) / Richard Bailey (banjo) / Kirk "Jellyroll" Johnson (harmonica) / Pat Alger (guitar) / Bill Kenner (mandolin) / Pete Wasner (piano)
Special Guests: Sam Bush ~ "Cowboy" Jack Clement ~ Nanci Griffith ~ Tim O'Brien
JACK'S TRACKS was named after its original owner "Cowboy" Jack Clement. The studio has a unique echo chamber, designed by the Cowboy, who had served as the right-hand-man for the legendary Sam Phillips 1956-9 at Sun Studio in Memphis. Allen Reynolds bought it from his mentor in the mid-1970s, and much memorable music was created there by Crystal Gayle, Kathy Mattea, Hal Ketchum, and Garth Brooks, among others. It was also home to the publishing company, Forerunner Music.
When it came time for the principals to move on, it was decided to hold a wake of sorts and bid farewell to the charmed site. This album was the result – heartfelt music-making among old friends – traditional and commercial, intelligent and in the groove – all at the same time.
In 2010, the studio was sold to Garth Brooks, who re-christened it "ALLENTOWN". And the beat goes on.