Click below for IN IT FOR THE LONG RUN (University of Illinois Press)
EBOOK:
And from Rooney January 13, 2016:
"Big news! Today Lyric Audio and Blackstone are releasing the audiobook version of "In It For The Long Run, A Musical Odyssey."It was a big challenge to read it, but I'm very happy that I did. I was helped enormously by my Director Andi Arndt, and my good friend Thomm Jutz did a great job of recording it. It gave me a chance to relive my musical journey and highlight my friendships and work with so many talented friends like Bill Keith, John Prine, Pat Alger, Nanci Griffith, Iris DeMent, Hal Ketchum and our wonderful family at Forerunner Music. It's all here–from the Club 47 in Cambridge, to the Newport Folk Festival, to my days in Woodstock, and ultimately to my many happy years in Nashville, Ireland and Vermont. I like to listen to stories myself and hope that this one will be one that take you on a good journey. It's available on CD from Blackstone, or digital download from Downpour, Audible, Blackstone, and iTunes. Enjoy!"
AUTHOR PROFILE
Jim Rooney has been involved in music ever since he first appeared on the WCOP "Hayloft Jamboree" as a teenager in Boston in 1954. He has been a musical partner of banjoist Bill Keith for over fifty years and played an important part in the folk revival of the '60's, managing the legendary Club 47 in Cambridge, Mass, and then becoming a Director of and the talent coordinator for the Newport Folk Festival. Jim also worked as a tour manager and stage manager for the Newport Jazz Festival and produced the first New Orleans Jazz Festival in 1968. In 1970 Jim moved to Woodstock, NY, where he managed the Bearsville Sound Studios for Albert Grossman and was a member of The Woodstock Mountains Revue. Since 1976 Jim has worked in Nashville, TN as a musician, songwriter, recording engineer, Grammy-winning record producer and partner in a successful music publishing company, Forerunner Music. Jim is best known for his record production with Nanci Griffith, John Prine, Iris DeMent, Hal Ketchum, Tom Paxton, Tom Rush, and Peter Rowan. In 2009 he received a "Lifetime Achievement Award" from the Americana Music Association for his work as an engineer/producer. Jim has written two books about music: "BOSSMEN: BILL MONROE & MUDDY WATERS" (JRP Books) and "BABY LET ME FOLLOW YOU DOWN: THE ILLUSTRATED STORY OF THE CAMBRIDGE FOLK YEARS," co-written with Eric von Schmidt (University of Massachusetts Press).
[click covers/titles for AMAZON preview page]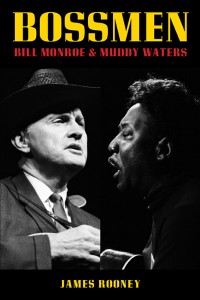 BOSSMEN
Every field has its "bossman"–the one who sets the style and makes the rules. In bluegrass and early country music the man was Bill Monroe. In the world of urban blues, the man was Muddy Waters. Using their own words and dozens of remarkable photographs by David Gahr, Carl Fleischhauer and John Byrne Cooke, James Rooney compares and contrasts the careers of these two bossmen. Both grew up in remote rural areas. Muddy Waters heard field hollers, church music, jubilees, shouts, string band music, and the raw sound of the delta blues; for Bill Monroe it was square dance music, hymns, old country ballads and the fiddling of his Uncle Pen Vandiver. Both brought their music to the big cities: Bill to Nashville, Muddy to Chicago. Musicians who passed through their bands went on to form bands of their own, giving rise to the worlds of Bluegrass and Chicago Blues. But this is more than a book about music; it is a book about black and white America. In microcosm, it is almost a history of this country; and it sets up striking comparisons that cut deep into our heritage and ways. In the words of Pete Seeger: "Anyone in the world wanting to understand American music could well start right here."
CONCERT ANNOUNCEMENT:
September 12, 2014 BERKLEE COLLEGE OF MUSIC, Boston MA is sponsoring a show with the theme " Muddy And Monroe" – Muddy Waters and Bill Monroe, two American music titans who each helped create and define a blues-based genre: bluegrass, in the case of Bill Monroe, and Chicago blues, in the case of Muddy Waters.
Special guests the Del McCoury Band and Catherine Russell will perform with students and faculty to re-envision the music of these two titans.
Produced by Matt Glaser and Rob Rose.
"The inspiration for this concert came from a wonderful book by Jim Rooney, entitled Bossmen: Bill Monroe & Muddy Waters. Although initially we intended to focus entirely on the music of these two giants, we have broadened our perspective to include the blues, in both its black and white manifestations. The musicians on this concert include the Del McCoury Band, Catherine Russell, Paul Rishell and Annie Raines, The Wayfaring Strangers featuring Tracy Bonham, Margaret Glaspy, and Laura Orshaw, as well as students and faculty from the Berklee American Roots Music Program. As we did in inspiRAYtion, the capstone concert of our Ray Charles symposium in 2012, we will attempt to do what Albert Einstein called a Gedanken experiment. This particular thought experiment will try to envision Bill Monroe and Muddy Waters playing together in the same band, exploring and sharing each other's repertoires: bluegrass musicians playing repertoire from the blues tradition, and blues musicians playing music from the bluegrass canon. Additionally, considering Berklee's identification with jazz, you will hear songs from both repertoires that have been given a harmonic and conceptual overhaul, courtesy of the jazz tradition. At this concert Del McCoury will receive the first ever Berklee American Roots Music Master Musician Award in recognition of his vibrant and soulful performances over more than half a century."
Click here to read an excerpt (courtesy of Thomas Goldsmith's anthology BLUEGRASS READER on Google Books)
BABY LET ME FOLLOW YOU DOWN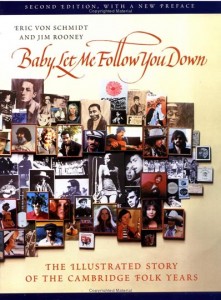 Baby, Let Me Follow You Down is a classic in the history of American popular culture. The book tells the story of the folk music community in Cambridge, Massachusetts, from its beginnings in living rooms and Harvard Square coffeehouses in the late 1950s to the heyday of the folk music revival in the early 1960s. Hundreds of historical photographs, re-screened for this edition, and dozens of interviews combine to re-create the years when Joan Baez, Bob Dylan, and a lively band of Cambridge folksingers led a generation in the rediscovery of American folk music. Compiled by two musicians who were active participants in the Cambridge folk scene, the volume documents a special time in United States culture when the honesty and vitality of traditional folk music were combined with the raw power of urban blues and the high energy of electric rock and roll to create a new American popular music.
IN IT FOR THE LONG RUN
A musical memoir of Jim's 50-plus years at the nexus of American folk music, with an insider's look at the places and personalities that brought indigenous voices and instruments into the cultural mainstream. In addition, there are insights into his work with some of the artists whose original songs drew from these traditions to form the branch of music now known as Americana. In fact, in 2009 Jim was honored with the Lifetime Achievement Award as Producer/Engineer by the Americana Music Association.
We hope to present some outtakes from this latest work by way of a blog, with short-form profiles and observations. Stay tuned.