In early 1973 I was working on an album at the Bearsville Studio in Woodstock with Eric Von Schmidt. When we were done, Eric and I went down to Brooklyn to deliver the album to Kevin Eggars, who owned Poppy Records. While there we met another artist on the label, Townes Van Zandt, who knew who Eric was and was glad to meet him. I'd never heard his music, but I was intrigued by the title of his new album, "The Late, Great Townes Van Zandt," which reminded me of the way disc jockeys for a long time always referred to Hank Williams. I'd say that's the connection Townes had in mind. Townes wanted to be as sad as Hank and never got over it.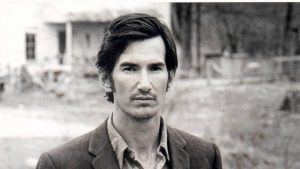 Later that year I came down to Nashville from Woodstock to check things out and was beginning to find other singers, songwriters and musicians. There was a tavern on West End Avenue called Bishop's Pub. It was just a beer joint with a pool table, but it had become home for a group of songwriters from the Houston area. Guy and Susanna Clark, Rodney Crowell and Richard Dobson would sing songs and pass the hat. I met Townes Van Zandt again. He seemed to be at the center of this group. He and his girlfriend Cindy lived outside of town in sort of a country shack with a front porch just right for making music.  It was easy and laid back, and I soon got a feel for Townes as a songwriter. He had soaked up much of what the Houston music scene had to offer. He was into the music of bluesmen like Mance Lipscomb and Lightnin' Hopkins.
He couldn't escape hearing people like George Jones and Lefty Frizzell who were carrying on in Hank's footsteps. He also was attracted to the old English and Appalachian ballads.  When he connected with Jack Clement, who, more than most in Nashville, understood where country music, blues and folk ballads all came together, Townes found a way to bring his songs out into the world. Right away, on the albums they did together there was "For The Sake Of The Song," "Tecumseh Valley," "I'll Be There In The Morning," "Pancho & Lefty" and "If I Needed You."  It was easy to see why the other Houston writers were drawn to him and were inspired by him to up their writing game. That influence continued expanding on through the years to other Texas songwriters—Nanci Griffith, Lyle Lovett, Robert Earl Keen, and Steve Earle.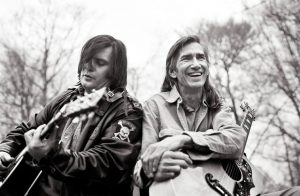 I finally got a chance to work with Townes on an album with Jack Clement in 1987. Even though we hadn't spent lots of time together lately, Townes and I had a very solid relationship. There were some people who almost worshipped him. A certain mystique had grown up around him, and whatever Townes did was beyond reproach or criticism. I think it made him uncomfortable to be the object of such adulation. I never had that kind of relationship with him. I think he knew instinctively that I wasn't a game player and that I understood where his music came from. The result was that we had a great time making this record, which we called "At My Window."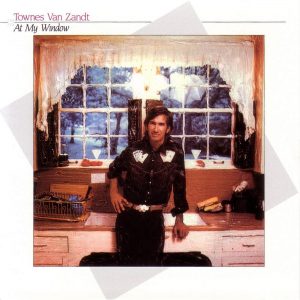 Together with the earlier albums that Townes did with Cowboy, I think this turned out to be one of his best, and it shows why all those other writers looked up to him. The songs came up through him from a deep source. He sang them to us in a voice as burnished and dark and light as the whiskey he loved. His was an old soul telling and retelling the old stories that show us how to pass through this life and go on to the next. Townes closed the album with an exceptional song, "The Catfish Song."
                   Well, the angel of springtime
He rides down the southwind
The angel of summer he does just the same
The angel of autumn
She's blue and she's golden
And the angel of winter
Won't remember your name
Down at the bottom of that dirty ol' river
Down where the reeds and the catfish play
There lies a dream as soft as the water
There lies a bluebird that's flown away
There lies a bluebird
That's flown away.
That was Townes.
Please help me welcome the newest member of the Nashville Songwriters Hall of Fame, Townes Van Zandt.