COWBOY JACK CLEMENT (1931-2013)
By Jim Rooney, circa 1988
To imagine the world of country music for the past thirty years without Jack Clement would be to imagine the world without flowers or birds. There would have been no record of "Whole Lot Of Shakin' Going On" by Jerry Lee Lewis. One of many records Jack introduced and engineered while at Sam Phillips' Sun Records in his hometown of Memphis. We would not have heard Johnny Cash sing "Ballad Of A Teenage Queen" or "I Guess Things Happen That Way", two of Jack's early hit songs. (To say nothing of Cash's renditions of "Dirty Old Egg Suckin' Dog" or "Flushed From The Bathroom Of Your Heart")
The world might not have heard Dickey Lee sing the heart-rending story of "Patches", recorded by Jack in Beaumont, Texas in a studio he built himself and shared with his longtime partner, the late Bill Hall. Dickey's classic "She Thinks I Still Care", published by Jack Music, and "A Girl I Used To Know", another standard written by Jack, would never have passed George Jones' soulful lips. We would never have heard Bobby Bare sing Jack's tale about "Miller's Cave" or Charley Pride sing "I Know One". For that matter, we might not have heard Charley Pride at all were it not for Jack.
He produced more than thirteen gold albums on Charley Pride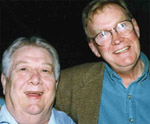 including such classics as "Crystal Chandeliers", "Does My Ring Hurt Your Finger", "Is Anybody Going To San Antone", and "Snakes Crawl At Night". Imagine the world of country music without those records!
Many writers would have missed Jack as well. Starting in Memphis and Beaumont with Dickey Lee and Allen Reynolds, Jack befriended and published the songs of many of the premier songwriters of our time, including Bob McDill, Don Williams, Wayland Holyfield, Jim Rushing, Kent Westberry, Vince Matthews, Paul Craft, Sandy Mason, and Townes Van Zandt. What if we had never gotten to hear "Catfish John" (Allen Reynolds & Bob McDill); "I Recall A Gypsy Woman" (Allen Reynolds & Bob McDill); "The Door Is Always Open" (Dickey Lee & Bob McDill); "We Must Believe In Magic" (Allen Reynolds & Bob McDill); "Love In The Hot Afternoon (Vince Matthews & Kent Westberry); "You Don't Need To Move A Mountain" (Wayland Holyfield & Jim Rushing);"Rednecks, White Socks And Blue Ribbon Beer" (Bob McDill, Wayland Holyfield, & Chuck Neese); "The Shelter Of Your Eyes" (Don Williams); "Keep Me From Blowing Away" (Paul Craft); or "When I Dream" (Sandy Mason")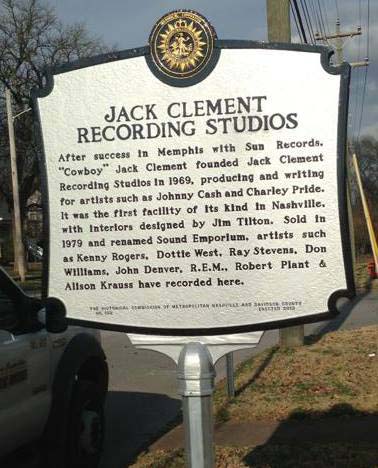 Jack Music, JMI Records, Jack Clement Recording Studios, and Jack's Tracks were a combination writing, recording, and producing collaborative workshop which significantly influenced the direction and sound of modern country music. Jack Clement drew talented people to him, put them together with each other, provided state-of-the-art facilities for them to work in, and encouraged them to eventually go out and continue their careers on their own. What would country music have been without the sounds of artists like Don Williams and Crystal Gayle? Allen Reynolds, who produced these artists' classic early albums, is undoubtedly the most prominent graduate of "Cowboy's College of Musical Nonsense" (as Jack prefers to call it), and a glance at today's Country Music Charts will tell you that many of the "Graduates" are very much an influence as artists, writers, producers, engineers, and music business executives.
Today Jack continues his long-standing friendships with Sam Phillips, Johnny Cash, Chet Atkins, Bobby Bare, Waylon Jennings, and many other legends of country music. He is proud of the writers he has worked with and helped and is happy to have been able to contribute to their success. He is constantly expanding his circle of talented friends, having worked recently with such people as John Hartford, John Prine, and Roger Cook, to name but a few. The "Yellow Brick Road" which Jack started to travel over thirty years ago in Memphis is still leading him over the next musical horizon into the future.