page 190, IN IT FOR THE LONG RUN by Jim Rooney
That may be the greatest understatement of the book. Forerunner Music was an anomaly among Nashville publishers of the 1980s. In the highly competitive environment where song pluggers were trying to pitch their wares to the current hot act as the next follow-up to what was on the radio at the time, the independent company of four friends followed their hearts and ears and, in effect, created a new audience in addition to appealing to the existing country music fan base.
In 1986, Jim Rooney had been knocking around Nashville about ten years, being allowed a working space by Cowboy Jack Clement, and producing/engineering albums by folk music-based singer-songwriters, including Nanci Griffith and John Prine. Critical success had yet to translate into mass commercial acceptance. Terrell Tye was working as a receptionist for Clement when his business manager Bob Webster fell ill, and she had to take care of the books in his absence. When Webster returned, he was impressed with her acumen and started teaching her the ins and outs of copyright administration.  Allen Reynolds had known Cowboy the longest, having followed him from Memphis in the early 1960s to Beaumont, Texas and ultimately back to Nashville. Reynolds had considerable success as a songwriter with songs like "I Recall A Gypsy Woman" (co-written with fellow Jack Music writer Bob McDill)  and "Wrong Road Again".  When Cowboy got preoccupied with one of his many other concerns, Allen took over the reins producing another fellow writer from the stable, Don Williams, and helped launch one of the great careers in country music. In fact, he had done well enough by mid-1970s to buy one of Clement's studios,  JACK'S TRACKS. Their engineer, Garth Fundis, was moving on to a storied career of his own and had been ably replaced by Mark Miller, a technician who did not speak much, but whose ears were wide open and whose input was invaluable.
p.176 IN IT FOR THE LONG RUN:
I called Terrell up at home and said I'd like to talk to her about an idea I had, and we went to lunch. I said, "I'm thinking of starting a publishing company. You know all about administration. I seem to be working with a lot of songwriters. What would you think about that?" She said, "It's funny you should mention that, because Allen Reynolds has been talking to me about the work you've been doing with Nanci and John Prine." Allen had a small publishing catalogue, which Terrell had been doing the paperwork for, but he wasn't actively demoing and pitching songs. I was happy to hear that Allen was seeing a pattern in what I was doing and the kind of songs I was recording by Nanci and Pat Alger. Terrell suggested that we talk to Allen.
  He was very receptive and said that he'd always wanted to have a real publishing company, but never had the time or inclination to do  it himself.  It made sense to him that we should join forces and that maybe a partnership would be the best way to go. He also said that he would want to bring in his engineer, Mark Miller, whose instincts about songs he had come to respect. Mark had succeeded Garth Fundis as Allen's engineer and had worked on Kathy Mattea's albums. I didn't really know him that well, but I totally trusted Allen's judgement, and if that's what he wanted, that's what we would do.
Allen then asked who I had in mind for writers. Right away I mentioned Pat Alger…
…We came up with the name Forerunner Music (4 Runners!) and gave ourselves five years to see if we could get something done…
We were starting out on a shoestring, so we'd do whatever had to be done ourselves. Mark and I were happy to do the demos. At one of our first meetings the subject of pitching songs came up.  Allen immediately said, "Well, I wouldn't be doing that." Mark said, "I wouldn't be good at that." I was looking at Terrell and Terrell was looking at me, so, by default, we were going to be our song pluggers.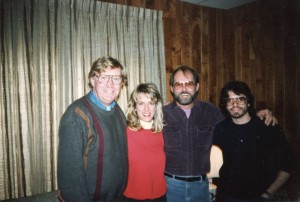 After a few years of success on the charts, mostly hits generated from in-house productions, the budget allowed for the hiring of a full-time song plugger in the person of Matt Lindsey, whose temperament and skill set more closely matched the role. Matt was soon joined by Leslie Barr who matched Matt in commitment and enthusiasm for the songwriters and the songs. Charles Green also came on board as an all around assistant for both the studio and the publishing company.
Joining Alger in the initial group of writers were an accomplished folk singer-songwriter from Maine, David Mallett [his "Garden Song (Step by Step)" was a Top 30 hit for John Denver, a staple of Pete Seeger's repertoire, a bona fide folk standard] and a husband-wife duo Barry and Holly Tashian (Barry's band The Remains had opened for The Beatles at Shea Stadium, and he had also spent a decade singing harmony on tour with Emmylou Harris). Like Pat Alger, many of the writing staff added over the ensuing years doubled as top level instrumentalists who could play both master and demo sessions: Tim O'Brien (from bluegrass band Hot Rize), Pete Wasner  (Vince Gill's piano player), George Marinelli (Bonnie Raitt's longtime guitarist),  and Shawn Camp (sideman to many country stars). Others who plied their trade there included poetic lyricist Charles John Quarto, bluesy Randy Handley, longtime Rooney cohort Herb McCullough, and recording artists Susan Taylor, Ruby Lovett,  and Hal Ketchum.
However, the one writer who arrived at Forerunner as a "country hitmaker" was Tony Arata – but what a hit. The last single released from Garth Brooks's first album was a song the young Oklahoman, who was selling cowboy boots at the time, heard Tony sing at The Bluebird Cafe. Garth swore if ever got a record deal, he was going to cut "The Dance", which he did, and it sent his career into the stratosphere.
p. 188 IN IT FOR THE LONG RUN
Our little company was starting to hum along [with Nanci Griffith and Kathy Mattea cuts -ed.] … That was our situation when Garth Brooks walked in the door. Terrell and I didn't pay that much attention to him at the time He was just an artist Allen was talking to as a producer. They recorded a  few songs, and Garth was eventually signed by Jim Foglesong to Capitol Records. They didn't record any of our songs for Garth's first album. Allen wasn't the kind of producer who would load a project up with songs he published. The songs had to work for the artist.We pitched him songs the same way we would pitch them to anyone, but we didn't connect. Hopefully, there would be a second album, and we'd have another shot.
  During the year that Garth's first album was finding its way, Pat Alger and Garth had begun to collaborate, two of the songs they wrote together, "The Thunder Rolls" and "Unanswered Prayers", not surprisingly, passed muster with Allen, and he added them to the list of songs they  would record. When the second album came out, it went multi-platinum and set us as publishers on a new path. In addition to Kathy Mattea's #1 parties (the most recent one for Pat Alger's "She Came From Fort Worth", we started having some Garth Brooks #1 parties. We had demoed another of the songs Garth and Pat had written , "Like We Never Had A Broken Heart," with a new singer, Trisha Yearwood. She, like Pat, was also from LaGrange , Georgia, and had been singing with him and his band The Algerians. We were all impressed with Trisha as a singer and encouraged Allen's former engineer, Garth Fundis, to work with her as a producer, which, happily, he did,  The following year Trisha had a big hit with "Like We Never Had  A Broken Heart." Forerunner's circle of success was widening.
The catalog was sold to Universal Music in 2000 and a dozen years later the studio was renamed ALLENTOWN and celebrated a new owner – Garth Brooks
******************************************************************
A reunion/fundraiser took place on November 20, 2013 at Douglas Corner Cafe to benefit the Music Health Alliance, which has a fund set up in memory of Cowboy Jack Clement.

Performers on the  show at Douglas Corner Cafe'  includedTony Arata, Pat Alger, Shawn Camp, Hal Ketchum, Pete Wasner, Barry & Holly Tashian, Ruby Lovett, Susan Taylor Pie, Herb McCullough, Matt Lindsey, Benita Hill, Sandy Mason, Jim Rooney, and Randy Handley. The Forerunner catalog was purchased in 2000 by Universal Music Publishing Group (UMPG) and features nearly 1,500 titles and more than thirty Top 20 country singles, including twelve No. 1 hits by artists like Garth Brooks, Vince Gill, Brooks & Dunn, Hal Ketchum, Kathy Mattea and Patty Loveless. Tickets to the benefit are $10 or a donation to Music Health Alliance.
There was second reunion at Douglas Corner Cafe on June 8, 2015. There were heartfelt performances by Pat Alger, Shawn Camp, Ruby Lovett, Tony Arata, Jim Rooney, Pete Wasner (and daughter Mackenzie), Richard Leigh, Roger Cook, and others.  The joyful mood of seeing old friends was tempered by the losses of Sandy Mason and Herb McCullough, both of whom had recently passed but whose songs remained.
Here is Jim describing Herb's persistence in getting him back into songwriting:
CLICK HERE FOR VIDEO Forerunner Music story #1

Here's a clip from recent Forerunner Music reunion at Douglas Corner.  Video shot by Charles Green.
June 8, 2016 Garth Brooks's studio band The G-men inducted en masse into Musician's Hall of Fame with engineer Mark Miller and producer Allen Reynolds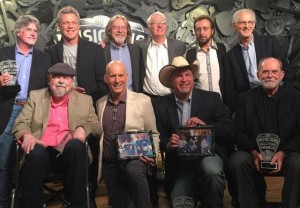 ROLLING STONE noted the 25th anniversary of the release of "The Dance"

"We weren't driven by the market, but, as it turned out, the market didn't seem to have a problem with our decisions." –