It is with a heavy heart that I pass on the news that Pete Kuykendall, a major figure in the Bluegrass world, passed on after a lengthy illness. Pete befriended Bill Keith and me when we met him back in 1960. He helped Bill land his first "real" bluegrass gig with Red Allen & Frank Wakefield in 1962. He and his wife Kitsy became our lifelong friends. My deepest sympathy to Kitsy. She was Pete's rock. Here is a brief bio by John Lawless from "Bluegrass Today" -JR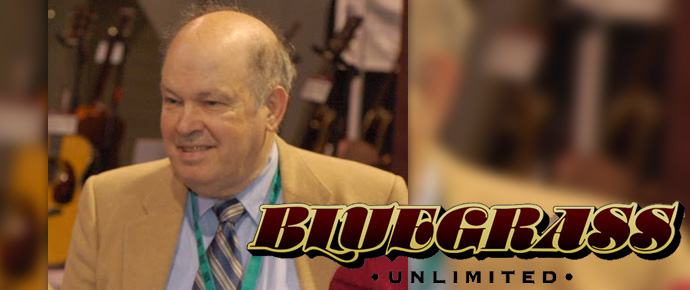 We have just learned of the passing of Pete Kuykendall, surely among the most consequential figures in bluegrass music during the 20th century. According to his wife, Kitsy, Pete passed in his sleep last night at the nursing facility where he was living in Warrenton, VA. He was 79 years of age.
Most people in bluegrass know Pete as the founder and Executive Editor of Bluegrass Unlimited, the first wide circulation periodical for and about bluegrass music. The magazine was launched in 1966 as a typed and mimeographed newsletter, but has grown steadily since that time to a glossy, full-color publication read around the world.
But Pete was also active as a performer, songwriter, publisher, recording engineer, radio host, and discographer in his native Washington, DC. He was instrumental in creating and managing the Indian Springs Bluegrass Festival in Maryland, and produced and recorded a number of albums in his basement studio during the 1960s. Later he served as one of the founders of the International Bluegrass Music Association in 1988.
Though largely retired in recent years, Pete remained active in bluegrass circles, and was always present at festivals along the mid-Atlantic region, and at the annual IBMA World Of Bluegrass convention, until he started having trouble with balance making it difficult for him to walk. Even living with nursing care, he continued to receive friends and share stories until the end.
It would be hard to overstate the importance of Pete Kuykendall's contributions to our music. Bluegrass Unlimited alone would qualify him for heroic status, coming as it did when the music was in danger of being overshadowed by the growing folk and rock n roll booms in the '60s. It became the primary source of information for fans, artists, and business people around the world, with news about recordings, artists, festivals, and products introduced to a large and devoted following each month.
He was also an avid collector of instruments, with a treasure trove of fine banjos, mandolins, and guitars in his possession.
It has been said that no one had a better grasp of the history of our music than Pete, and now that precious resource is gone. Let's all hope that the magazine he founded will continue on in his absence.