[Ed. note:  Bill Keith died on October 23, 2015, soon after this was posted. He had been ill for some time.]
Last week I was able to connect with two of my long-time musical families–the Bluegrass Family and the Folk Music Family.
I went to the IBMA Bluegrass Convention in Raleigh, North Carolina to participate in the induction to the Bluegrass Hall of Fame of my long time (56 years!) musical partner Bill Keith.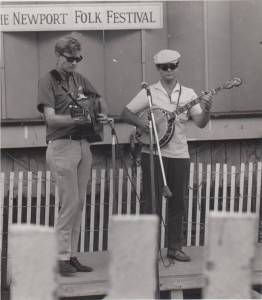 I started off by recounting how Bill and I started our journey together:
I heard recently that Steve Martin said that, for him, there were three banjo players–Pete Seeger, Earl Scruggs and Bill Keith. When I met Bill Keith in early 1959 he was playing a Pete Seeger model long neck banjo and had just gotten to the last pages of Seeger's instruction book which described Scruggs picking. Bill had also bought Flatt & Scruggs "Foggy Mountain Jamboree." I told Bill that I knew some of those songs because a few years earlier I had heard them played on the radio in Boston by Everett and Bea Lilly, Don Stover and Tex Logan–The Confederate Mountaineers. So Bill and I started hanging out together, playing a mixture of folk music, early Bluegrass songs, and instrumentals. We were going to Amherst College in Western Massachusetts, and on our Spring Break I made it a point to bring Bill into a joint in Boston called The Hillbilly Ranch to see Don Stover. Learning from a book or from records is one thing, but when Bill Keith laid eyes and ears on Don Stover in person, everything started to make sense. The impact of Don's drive and inventiveness was incalculable. Bill also realized how much more there was to learn. He listened to J.D. Crowe, Sonny Osborne, Eddie Adcock, Don Reno, Allen Shelton. He wanted to learn–and has never stopped learning.
By 1962 we were lucky enough to team up Joe Val and Herb Applin, as well as Frtiz Richmond on washtub bass, so we were now a full-fledged bluegrass band. Around this time Bill started working on "The Devil's Dream" and "The Sailor's Hornpipe." He wanted to play them note for note just as his neighbor June Hall did on the fiddle. It wasn't an attempt to be flashy; he really just wanted to play the melody. That Fall when we made an album for Prestige Records called "Livin' On The Mountain." Bill recorded both tunes together in one take. It was pretty amazing.
As Bill had been drawn more and more into the playing of Earl Scruggs he slowed down all of Earl's solos and started figuring out a tablature system which would enable him to play them note for note. Thanks to our Boston manager Manny Greenhill, Bill demonstrated it for Earl, who then invited Bill to come to Nashville to help him work on his instruction book.
Naturally, Earl took Bill to the Opry. Before too long Bill joined a jam session backstage where he played "The Devil's Dream" and "The Sailor's Hornpipe." Jaws were dropping. One of them belonged to Bill Monroe! A while later he sent Kenny Baker back to Bill Keith. He said, "If you ever want a job with Bill Monroe, you've got it." Four years after he had gotten to the end of Pete Seeger's instruction book, Bill Keith was going to be a Bluegrass Boy! As soon as Bill joined the band Monroe recorded "The Devil's Dream" and "The Sailor's Hornpipe" and started featuring Bill on his Opry shows. Our "Livin' On The Mountain" album came out and suddenly the Bluegrass world was starting to talk about "Keith" picking. Banjo playing would never be the same.
I shared the honors of inducting Bill with one of my favorite people, banjo player Alan Munde. I will share with you what Alan had to say about Bill's influence on banjo players:
"My good friend, picking partner, and colleague at South Plains College, Joe Carr, wrote a song of advice for our Camp Bluegrass attendees with the basic message of "we didn't mean to change your lives, we only wanted to teach you G, C, and D."   As we all know too well, G, C, and D can change your life and in fact become your life. Bill Keith could likewise say "I didn't mean to change your life, I only wanted to play 'Devil's Dream' on the banjo." And likewise we all came to realize that he changed not only the banjo world but the whole of bluegrass as Neil Rosenberg noted in his book Bluegrass, A History: "Keith's impact on bluegrass was revolutionary." It certainly was for me as it was for an untold number of banjo players that followed. Bill Keith's style of playing, first of fiddle tunes and later adding his own expansive view of banjo possibilities, has given immensely to banjo players tool box of performance techniques and allowed the banjo to become more adaptive in the contemporary world of our music."
I have always liked Tony Trischka's comment that in bluegrass to be different you don't have to be very different. Playing an old tune, "Devil's Dream," in a new way can be likened to playing the old song, "Mule Skinner Blues," in a new way. To some they can both be viewed as not very different renditions of the originals, but like learning G, C, and D, they are differences that make a big difference.   Bill Monroe invented the music with "Muleskinner Blues," and Bill Keith changed the trajectory of bluegrass music with "Devil's Dream " and all the adaptive techniques and musical concepts he explained to us through his recordings, workshops, concerts, and thousands of hours of private time spent with individual interested players. Bill led us all to a new way of thinking about the banjo and in turn bluegrass music . Through the portal of all that he brought to the banjo and bluegrass, Bill helped in a big way to bring us to where we are today.
After Alan spoke I recalled what Bill Monroe had to say about Bill "Brad" Keith. (Monroe didn't want any confusion about who the "Bill" in the band was.)
"Brad Keith, he understands music. He's a good listener and he's a good man to listen to. He's done a lot of good for music and especially for Bluegrass. At a time when I needed a boost, I think Brad gave it to me. I think it came in just when I needed it. Before he came along no banjo player could play those old fiddle numbers right. You have to play like Brad could play or you would be faking your way through a number. It's learned a lot of banjo players what to do and how to do it where they can come along and fill that bill today."
At this point a video was shown from the Grey Fox Festival showing Bill Keith playing the "Devil's Dream" with a young fiddler named Johnny Cody. It captured Bill's openness in sharing his talent with any young person who was willing to learn.
When the lights came up I said,
I would like to think that if Bill Monroe were with us here tonight he would join Alan, me and all of you in welcoming Bill Keith into the Bluegrass Hall of Fame.
The audience stood and gave Bill a resounding ovation. The smile on his face told the whole story.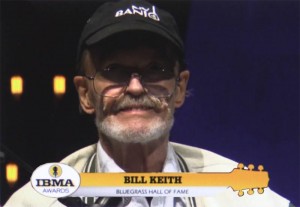 The night before we were able to spend time with Bill in the company of lifelong friends Happy and Jane Traum, Tony Trischka, and Sam Bush. On the night of the award Bill and Del McCoury recalled their days as Bluegrass Boys together back in 1963. Now they are both in the Hall of Fame.
I was also happy to congratulate my fellow Irregular and former Forerunner Music songwriter, Shawn Camp for being voted Male Vocalist of the Year. Shawn is one of the most talented people I know. Check out his Oh Boy Records album "Live At The Station Inn." It's a total winner. His award at IBMA was the result of his recent work with the Earls of Leicester, who won every award they were nominated for. My great buddy Jerry Douglas masterminded this project. Like Bill Keith, Jerry has taken the dobro to new levels. We have worked together on many projects over the years. His enthusiasm and creativity never end. These people are all part of my Bluegrass family. And it was a joy to be with them all.
The day after I returned from Raleigh Carol and I drove down to Cambridge to a memorial gathering for Byron Linardos, who managed the Club 47 from 1962-65. I have already written about Byron, but I thought is was a great tribute to him that 50 years later so many of us from those early days showed up to share stories with his wife of 57 years, Catherine, and his daughters Pavan and Felice.
Tom Rush, Geoff Muldaur, Betsy Siggins, "Spider" John Koerner, Carol and I were all helped enormously by Byron when we were starting out. He was demanding and encouraging. He wanted us to become better at what we were setting out to do. He really cared, and it made a big difference to all of us. Whenever we get together there is that sense of belonging to a family. We are bound together by the love of music, which still motivates us to get out in the world and share it with whoever wants to listen.